Constantly working on optimization. That is what drives us. For more than 40 years now. Our systems have been delivering outstanding performance on Dutch roofs for many decades. Demonstrable. The reliability, durability and performance of our Wédéflex roofing membranes are guaranteed: they are supported by various independent studies.
About us
We distinguish ourselves strongly in the market because we do not make any concessions in the field of quality. We develop the best products, choose the best service and only work with the best roofing companies (Wédéflex Established Dealers).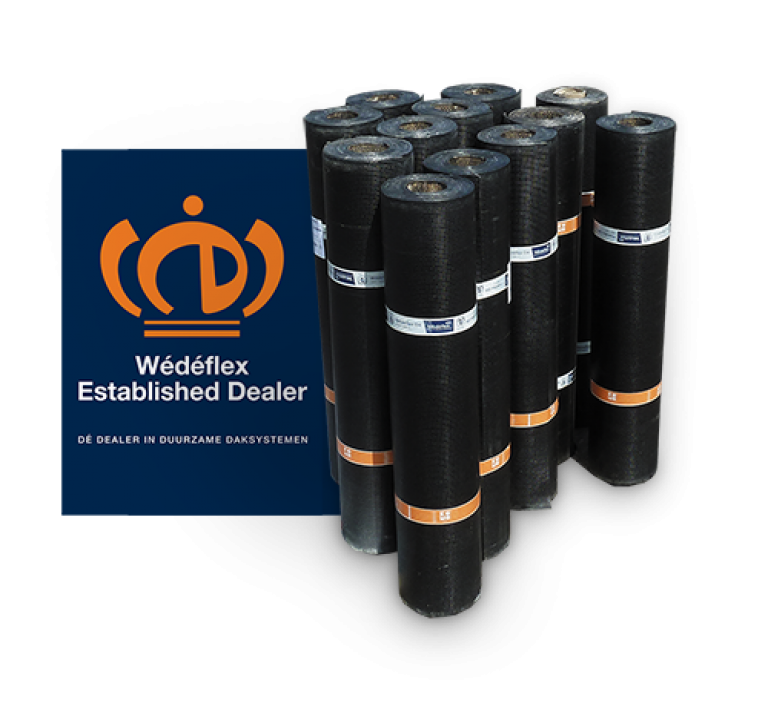 Wédéflex Established Dealers
Making the best even better together
Wédéflex wants to permanently guarantee the highest quality. This is only possible if you work with the very best partners. Our Wédéflex Established Dealers deliver top quality without exception. They work in accordance with the requirements of the Building Decree, BDA Report and KOMO certificates K91908 / K7050. Every year they receive the Wédéflex Certificate of Recognition. Please contact us to find a Wédéflex Dealer near you!
Insured Warranty
The quality of our Wédéflex sustainable roof systems is rock solid. That is why we give you a 10-year Insured Warranty on material and processing. Insured Warranty without deductible and without finishing. But be aware: only a Wédéflex Established Dealer is able to offer you this unique security.
Product information
Are you looking for high-quality and sustainable products? Then Wédéflex has a lot to offer you. Our Wédéflexers are ready to inform you about the possibilities in your specific situation. Call or email us. We like to think along with you!
Specification service
The realization of the Wédéflex Established® roof systems is based on the description in the specifications. In order to guarantee the quality of the roofing systems, the Wédéflex Established® roof concept was chosen in the initiation phase. Then the structure of the roofing system is determined: the materials, the mounting and the execution. All this must be clearly described in the specifications.
Roof gardens
Roof gardens. Roof terraces. Roof parks. We see them more and more and that is not so strange because more and more people live in the city. And most companies are located in urban areas. 'Green' on your roof improves the quality of your living environment, is good for the environment and increases the value of your building. Roof gardens are heat insulating and act as a buffer for rainwater. They also counteract the heat island effect (which you see in large cities), they damp noise and increase biodiversity. Very cool of course. But it is essential that you ensure that a roof garden, terrace or park is installed in a good and high-quality manner.